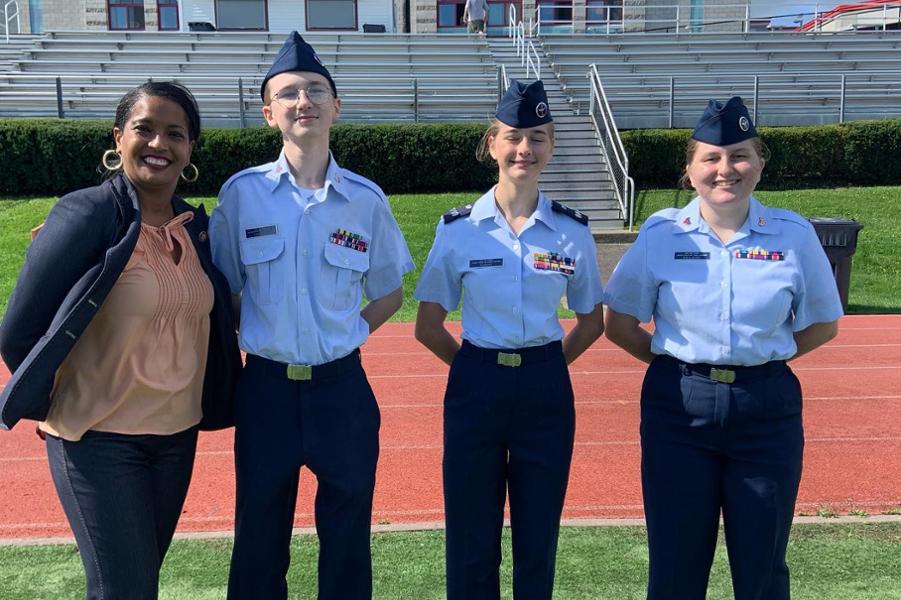 Letter From Congresswoman Jahana Hayes
Dear Applicant,

Your interest in this process demonstrates that you are a highly motivated, well- rounded, service oriented young person. Please know, if this journey does not end with an acceptance letter from a service academy, there are many other ways to access higher education through military service such as via an ROTC program or the Connecticut National Guard. My staff will be happy to provide you with a comprehensive list of this information if you are interested.

If accepted, you will have a unique opportunity to develop physically, ethically, and intellectually while building a foundation for an exciting, challenging, and rewarding career as a military officer in the service of our nation. Connecticut students are traditionally very successful at the academies, and I'm pleased to do my part to ensure that the communities of the 5th Congressional District continue to provide some of the next generation's outstanding military leaders.

A congressional nomination is required for students wishing to enter the U.S. Military Academy, West Point, NY; the U.S. Naval Academy, Annapolis, MD; the U.S. Air Force Academy, Colorado Springs, CO; and the U.S. Merchant Marine Academy, Kings Point,NY. Successful applicants will have a broad academic background, the ability to pass a physical aptitude test, and strong leadership potential. An applicant must also be a United States citizen, a high school graduate between the ages of 17 and 23, unmarried,have no dependents, and be of high moral character. Acceptance of a service academy appointment requires at least a nine-year service obligation, including four years at an academy and five years of active duty service. If you are interested in a nomination, you must apply to my office by October 20, 2023. We will be reviewing applications for the class entering in July of 2024. Please contact my district office at 860-223-8412 with any questions.

As I'm sure you already know, I am given a limited number of nominations each school year. No matter the outcome of this process, I know you will go on to serve our country (both inside and outside of the United States Military) with your unique skills.

Sincerely,

Jahana Hayes

United States Representative
Eligibility
To be eligible for appointment, you must be an American citizen, at least 17 years old and not yet 23 years old on July 1 of the year you enter an academy (25 years old for United States Merchant Marine Academy). Further, you must not be married or pregnant, and you must not have any legal obligation to support children or other dependents. To apply for a nomination through my office, you must also be a legal resident of Connecticut's 5th Congressional District. If you are not certain that your legal domicile is in Connecticut's Fifth Dsitrict, call my office and request address verification.
Application Requirements
A Nomination Application (pages 9-12 of the packet)
A copy of your high school transcripts, including your GPA. If you have taken any college coursework outside of your high school, please include transcripts for those classes as well.
An official copy of your SAT or ACT scores: These scores are often included on your transcript. If this is not the case, please submit a copy of your results with your application or arrange from them to be sent to our office. The office's SAT number is 3466. The office's ACT number is 7313.
3 letters of recommendation: one from a teacher, principal, or guidance counselor; one from an employer, coach, or extracurricular faculty advisor; and one from any person of your choice who is not related to you.
All applications are required to be typed. Hand written applications will not be accepted. Should you need access to a computer to complete your application, please reach out to my office at 860-223-8412 and my staff will arrange an opportunity for you.
Your full application is due: Friday, October 20th, 2023
Your full application should be mailed to my Waterbury office:
The Office of Congresswoman Jahana Hayes
Attn: Kim Wachtelhausen
108 Bank Street, 2nd Floor
Waterbury, CT 06702
860-223-8412
*Please do NOT send any materials to the Washington, D.C. office.
Once all applications have been received, qualified applicants will be invited to interview with members of the Service Academy Advisory Committee.
Additional Information
In addition to the above requirements, each academy has established academic, physical, and leadership requirements for admission. Candidates for appointment to each academy must:
Demonstrate comprehensive academic preparation;
Demonstrate leadership in athletics and other extracurricular activities;
Take the SAT, or the ACT;
Pass a comprehensive medical examination; and
Pass a physical aptitude examination
Individuals seeking to appoint to a service academy must also separately apply to each service academy to which he or she seeks to be appointed. Each academy requires the submission of a preliminary application to initiate the admissions process. Preliminary application materials are available from the academics website.
(Upon clicking the link, the application may automatically download to your computer or open in a new window.)
Academy Contact Information
United States Military Academy
United States Military Academy
Admissions Office
600 Thayer Road West Point, NY 10996-9902
http://admissions.usma.edu
United States Merchant Marine Academy
United States Merchant Marine Academy
Office of Admissions
Kings Point, NY 11024-1699
http://www.usmma.edu/admissions/