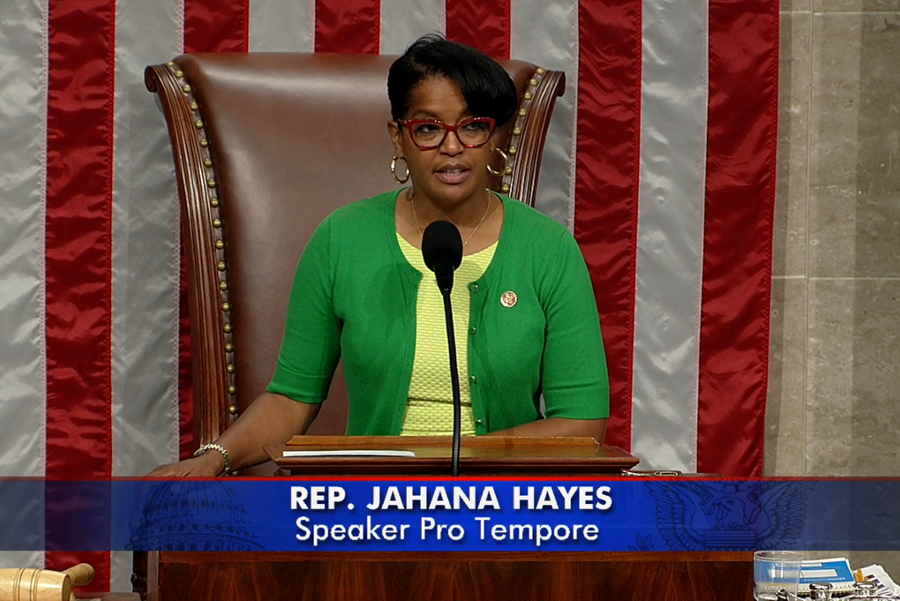 WASHINGTON – Today, amid the dangerous assault on women's health, Congresswoman Jahana Hayes (CT-05) presided over the House floor during debate and voted to pass legislation to strengthen and protect reproductive freedom in the United States.
The Women's Health Protection Act of 2022 and the Ensuring Abortion Access Act aim to empower women to make their own health care decisions in consultation with their providers and prevent states from interfering with those seeking abortion care in other states.
"Abortion is health care. Every woman deserves to make her own medical decisions without government intervention or fear of punishment," said Congresswoman Hayes. "This is the second time I have voted to pass the Women's Health Protection Act – and I am committed to fighting until the right to abortion care and protections for individuals seeking abortion care are codified into law. While my home state of Connecticut has passed the Reproductive Freedom Defense Act, which would create "safe harbor" to shield abortion providers and patients from lawsuits initiated by states that have banned or plan to ban abortion, until these rights are enshrined into federal law they are at risk of being taken away nationwide. We must remain persistent in our pursuit of bodily autonomy until everyone has equal access to the healthcare they need, no matter where they live."
In June, the U.S. Supreme Court ruled the Constitution does not confer the right to abortion, overturning two landmark Supreme Court decisions and nearly a half-century of legal precedent. Immediately following, many laws restricting or banning abortion have taken effect or will soon take effect across the country. At least 13 states had "trigger bans" in place which made abortion illegal upon the ruling or shortly thereafter. Several other states have implemented extensive restrictions on abortion, meaning abortion may be banned in up to 26 states. Some states have passed laws to prosecute residents who attempt to travel across state lines for abortion care. As a result, Connecticut is preparing for a surge of patients seeking abortions and will have to compensate for these unfunded mandates to provide access for individuals seeking care.
The Women's Health Protection Act prohibits governmental restrictions on accessing abortion services and ensures health care providers and patients have a statutory right to provide and receive abortion care, restoring a nationwide right to such care.
The Ensuring Access to Abortion Act addresses efforts at the state level to criminalize Americans traveling for reproductive health care. This legislation ensures no person acting under state law could prevent, restrict, or otherwise retaliate against someone traveling across state lines for lawful abortion care, including vigilantes empowered by states under current anti-choice laws.
This week, the U.S. Department of Health and Human Services (HHS) issued guidance to approximately 60,000 retail pharmacies, stressing their federal obligation to ensure access to birth control, miscarriage management, and medication abortion. While Roe v. Wade was overturned, reproductive health care services remain protected by federal law. HHS has launched a Know Your Rights website to provide accurate and up to date information about access to and coverage of reproductive health care and services.
###
Congresswoman Jahana Hayes sits on the Committees on Education & Labor and Agriculture and proudly represents Connecticut's 5th District. She was a public school teacher in Connecticut for more than 15 years and was recognized in 2016 as the National Teacher of the Year.