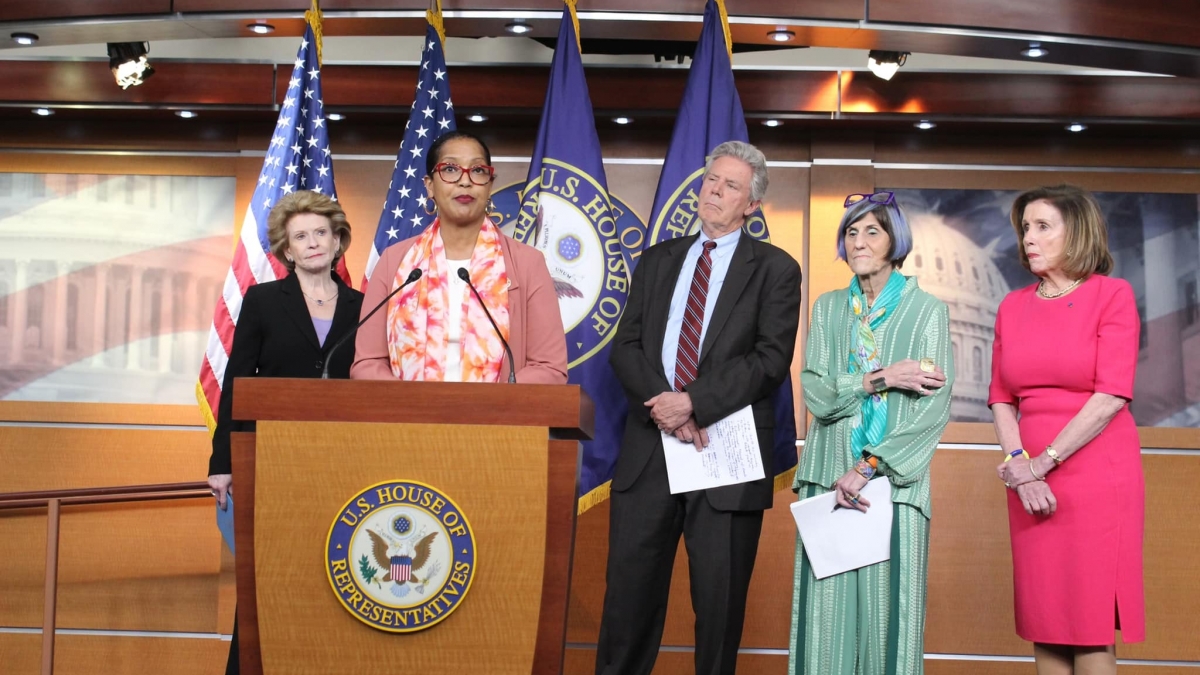 WASHINGTON – Today, Congresswoman Jahana Hayes (CT-05), led the introduction of the Access to Baby Formula Act to help improve access to infant formula amid shortage for families who participate in the WIC (Women, Infants and Children) program during a crisis. Since April, around 40% of formula products were out of stock in seven states, including Connecticut.
Regrettably, the baby formula shortage has taken an especially dangerous toll on women and children from underserved communities who use WIC benefits to purchase formula, including nearly 44,000 families in Connecticut. In response, the bipartisan bill, the Access to Baby Formula Act provides flexibility so that families can continue purchasing safe infant formula with WIC benefits during extenuating circumstances, such as a supply chain disruption.
"We are in the midst of a national emergency, where families are panicking as they work to prevent their babies from going hungry. I have heard directly from constituents who are searching for formula to no avail and we are actively seeing the consequences of an essential service throttled by a monopoly industry during a time of unprecedented supply chain challenges. Today, we are taking action to help our most vulnerable families feed their babies," said Congresswoman Hayes. "As a young mom, I turned to the WIC program to help my family. As the Chairwoman of the Nutrition Subcommittee, I am now working with Chairman Bobby Scott to protect these vital services. My bill, the Access to Baby Formula Act, helps improve access to formula products for WIC participants, while also ensuring participants are better protected during future product recalls. I am hopeful this effort will provide urgent relief for struggling families."
"The shortage of infant formula has been distressing for families in Virginia and across the nation. This crisis is particularly alarming as it has disproportionately affected women and children who rely on WIC benefits to purchase formula. That is why Representative Hayes and I have taken action to provide additional WIC flexibilities, so vulnerable families can use their benefits on other safe and available formula products. This legislation will help ensure that babies receive the nutrition they need," said Chairman Robert C. "Bobby" Scott. "While I am encouraged that the Biden Administration and Abbott Nutrition have come to an agreement to restart production, I remain committed to working with my colleagues to ensure families can maintain access to the formula they need in the interim and in the future."
Highlights of the Access to Baby Formula Act include:
The establishment of waiver authority to address emergencies, disasters and supply chain disruptions by ensuring states that contract with these companies for the WIC program can secure supplies from additional manufacturers.

The waiver of requirements that can slow down the process to get formula back on the shelves, without sacrificing safety standards.

The coordination and information sharing between the Secretary of Agriculture and Secretary of Health and Human Services regarding any supply chain disruption, including supplemental food recalls.
WIC recipients utilize formula at roughly double the rate of non-participating families– making this crisis have a disproportionate impact on communities and families with the highest need. Further, for those able to find formula in local stores, prices have increased dramatically, in some cases rising 18% over the past year. This legislation provides a back up plan in the case of future recalls or supply chain disruptions so that we are not left agonizing over how we will feed our babies.
Abbott Nutrition's recall is particularly alarming as its formula products serve 89 percent of all infants participating in WIC, according to the USDA's Food and Nutrition Service.
Congresswoman Michelle Steele (CA-48) is an original sponsor of the Access to Baby Formula Act.
To read the bill text for the Access to Baby Formula Act, click here.
To learn more about the Access to Baby Formula Act, click here.