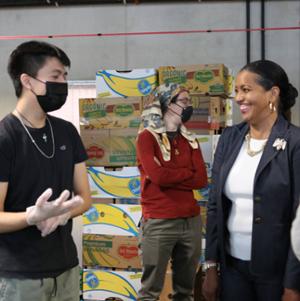 As Ranking Member of the Nutrition, Foreign Agriculture, and Horticulture Subcommittee, Congresswoman Hayes is a leader on ending hunger. She has convened hearings on the effectiveness of the SNAP program during the COVID-19 pandemic, the prevalence of veteran and military hunger, benefit cliffs, and nutrition distribution programs like The Emergency Food Assistance Program (TEFAP). Throughout the pandemic, she has been a leading advocate for increased SNAP benefits, the expansion of Pandemic-EBT (Electronic Benefits Transfer), increased funds and resources to food banks, and streamlined administrative processes to ensure every American who needs nutrition assistance can get it as easily as possible. She urged the U.S. Department of Agriculture (USDA) to move forward with their review of the Thrifty Food Plan, which resulted in a permanent 27% increase to SNAP benefits. She has also introduced the Student Food Security Act, which would eliminate barriers to nutrition assistance for the lowest income college students.
She has introduced 10 bills in the nutrition space, 4 of which are bipartisan. Her legislation would expand automatic eligibility for school meals, streamline access to the WIC program, make the Summer-EBT program permanent and national, and create a $100 million program to promote scratch cooked meals in public schools.
For more information concerning work and views related to Nutrition, please contact our office.
More on Nutrition
March
2022
February
2022
January
2022
November
2021
September
2021
August
2021
July
2021
June
2021